Testimonials
When choosing a real estate professional, get to know their history!
Below, you'll find information that will help you get to know us better from what are clients have had to say, awards and credentials we've achieved, Cecile has been selling real estate in this area since 1999 and achieved the highest awards personally that a licensed REALTOR(R) with her company offers to top producers with Coldwell Banker. Cecile also has qualified for Previews International with Coldwell Banker for sales in Luxury properties.
Julia joined Cecile early in 2015 and have proven to be outstanding in her attention to detail in her commitment to her clients.
We consider the satisfaction of our clients to be our greatest achievement, and take pride in our high volume of repeat business and referrals. Call us today we'd love to add you to this growing list of clients that we have helped achieve their dreams!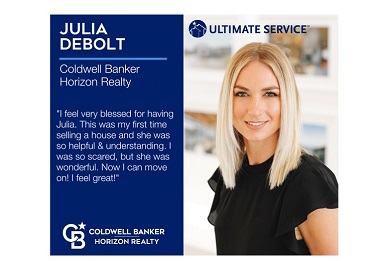 Julia Debolt's client was so happy with the sale of her home and Julia's great service! #wearekelownarealestate #coldwellbanker #helppeople #ultimateservice Cecile GuilbaultGroup
Julia was Great. Detail-orientated, professional, helpful, prompt replies by text & email. Flexible to fit into my work schedule. We've moved lots and this was a positive experience. She also seemed to know the area/region well which was helpful.
Ben + Tanya
We were very impressed with Cecile's patience, attention to detail and research she did for us. We are first home buyers and will definately use her expertise in the furture.
Rob & Jenny Drasdo
We were very satisfied with all the work done by our agent Cecile Guilbault. If we need to sell or buy in the future, we would not hesitate to call Cecile again'.
Elsa & Helge Jensen
Very professional & knowledgeable sales rep. Cecile was extremely helpful & a pleasure to deal with.
Rob Hodgins & Lori Anderson
I don't know where to start when it comes to expressing our appreciation towards Julia. Absolutely delightful, professional, prompt, effienct and accomodating. We had specific criteria and desired location; If Julia had not had her finger on the pulse we know we wouldn't be in our desired location and in the best suited place for our needs.
Heather Primrose & Mark Gardner.
Overall Coldwell Banker has a great service program for clients. Cecile is a great agent. She is professional, friendly and works hard to ensure customer satisfaction.
Joe & Tanis Pike
Cecile's knowledge of the Peachland Market and accurate market evaluation of my home resulted in a listing at the appropriate price and thus quick sale.
Jo-Anne Lawson
Cecile made every effort to get us the house we wanted in the price range we had established. Very satisfied!
Felix & Angela Possak
She is sharp, thorough, trustworthy and honest. I value her advice and opinion 100% ~ Makes you feel confident with your decision.
Lynda Pope
Cecile is an excellent salesperson and I will recommend her to anyone I can. She is very professional and very pleasent and an asset to your firm. Thank you, Cecile.
Walter Zimmer
Cecile was awesome! Very effecient and professional. She has exceptional knowledge of the market and prompt to show us new listings. Very personable and respectful.
Dawn Oliver
Excellent service, knowledge and attention to detail. Very organized.
Don Hennig
Once again this is our 6th transaction with Cecile we can't say enough about the professionalism, attention to detail and genuine caring that Cecile has for her clients. We recommend her to anyone in need of her services Well done again Cecile.
Dave Westburg & Tanis May of West Kelowna
I am so happy that I listened to a couple of friends, Cecile came very highly recommended. She was everything they said and then some.
Laurie of West Kelowna
We are extremely satisfied with the service we received from Cecile, she is an exceptional agent!
Mark & Barb Bizovie of West Kelowna
Cecile was most sincere and professional, we have already recommended her to others as we were so pleased with the way in which she handled our sale.
H & A Ferguson of Peachland
Professional, Knowledgeable, helpful and pleasant are just a few words that describe Cecile. We simply cannot imagine going through this selling process with anyone else. 1000% satisfied!!
Peter &Janice Austin of West Kelowna
Cecile's prompt responses to our questions and realistic suggestions throughout the process were the major reason why our home sold in a very challenging market. We are most appreciative.
Dave and Judith Gunderson of West Kelowna
Cecile is very professional and personable. We trusted her advice and had complete confidence in Cecile to sell our Farm. Thank you Cecile.
Murray and Shelley Todd