Western Investor's annual take on the top five towns to place your real estate investments in Western Canada over the next year.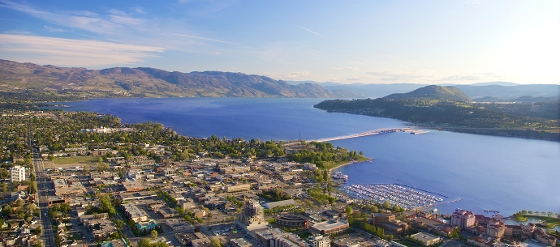 No. 1: Kelowna
The largest city – 127,800 residents – between Metro Vancouver and Calgary, Kelowna is the dominant trading center for the Okanagan Valley, B.C.'s third most populous region. Together with neighboring Vernon, West Kelowna, Peachland and Lake Country, the greater Kelowna area has a population of 256,216, up 7.4 per cent from 2011. It also has a blossoming high-tech sector, which has rocketed in the past few years into a $1.3 billion industry that involves more than 200 companies.
With one of the most temperate climates in Canada and a fertile land base, a rich array of ski resorts, vineyards within city limits and lakeside attractions, Kelowna is a major tourism destination, as well as a beacon for new residents – many from the Vancouver area – drawn by its recreational amenities and relatively affordable housing.
Here is a clue to what is happening: more new homes were started in Kelowna this year than in any area outside of the Lower Mainland, including Greater Victoria, which has three times the population of Kelowna.
We carry a full report on the Kelowna residential and commercial real estate opportunities in the B section of this paper.
Investment play: Land assembly of detached lots near downtown, courtesy of a January zoning change that encourages higher density. Also retail property, particularly for developers of badly needed new retail space in the downtown zone.
No. 2: Surrey
Vancouver's booming suburb to the southwest won't be a suburb for much longer. Within the next decade Surrey will overtake Vancouver as B.C.'s largest city. Around 10,000 new residents move to Surrey each year, and the entire South Fraser region – which includes Langley and Abbotsford – is projected to absorb 70 per cent of the entire region's population growth over the next 25 years.
A key point: Surrey has a higher percentage of people aged 10 to 24 than the provincial average. Surrey is also home to one in four Metro Vancouverites under the age of 19.
South Surrey-White Rock is separated by farmland from the rest of the city, and is a focus for new single-family homes and townhouse construction. Newton is the heart of Surrey's South Asian community, while Guildford and Fleetwood are more traditionally suburban in character. Cloverdale to the west has a rural flavor on the Langley border. And then there is Surrey's new downtown, Surrey City Centre, where the 52-storey 3 Civic Plaza hotel and condo tower completes this year, and an eight-building medical-technology office hub is under construction, along with multi-family condominium projects.
Investment play: Multi-family rental apartments and rental condominiums. Based on recent sales, the average cost per door for a Surrey rental apartment building is $171,000, at least $50,000 below the Greater Vancouver average, yet the rental vacancy rate and rental rates are similar.
No. 3: Saskatoon
Saskatchewan's commercial capital entered 2017 plagued by a prolonged period of historically low commodity prices and slumping real estate. But that has changed fairly quickly. A Saskatoon economic report published by the Real Estate Investment Network said Saskatchewan's largest city has managed to rebound from a market downturn thanks to a recovering energy market and burgeoning real estate activity.
The oil recession caused a slight, 1 per cent decrease in Saskatoon's GDP during 2016, according to Royal Bank (RBC).
However, Saskatoon's GDP is expected to increase 1.8 per cent in 2017 and 2.3 per cent in 2018, RBC forecasts.
The fundamentals of the city's economy are strong. Saskatoon had Canada's third-fastest growing population of any metropolitan center, after Edmonton and Calgary, growing 12.5 per cent between 2011 and 2016. And as the headquarters of uranium giant Cameco and PotashCorp, the city is well positioned to feel the tailwinds of the next commodity super cycle.
Investment play: Retail investments near the River Landing District, where a $300 million development is underway along the South Saskatchewan River.
No. 4: Calgary
Calgary continues to feel the pain of low oil prices, but 2018 will be a turnaround year for real estate in Alberta's biggest and most-watched city.
"There is little question that Alberta's economy has rounded the corner and the worst recession in three decades is now squarely in the rear-view mirror," the Alberta Treasury Branches (ATB) noted in its Alberta Economic Outlook, released in August. ATB is forecasting real GDP growth of 3.2 per cent this year, followed by a still-healthy expansion of 2.1 per cent in 2018.
Altus Group reports that total commercial real estate investments in Calgary in the second half of 2017 increased 24 per cent from a year earlier to more than $1 billion.
Calgary's industrial vacancy rate is projected to fall from the current 7 per cent to 6.1 per cent by 2018, fueled by demand for distribution space. The retail vacancy rate dropped to 2.9 per cent in the third quarter, with most of the recovery in suburban malls.
And the multi-family market is also tracking up. Bob Dhillon, founder and CEO of Mainstreet Equity Corp., Calgary's biggest landlord who specializes in mid-level rentals, said rents appeared to have hit bottom.
"Every indicator is showing that things have bottomed and bounced off the bottom," Dhillon said.
Investment play: Multi-family rentals and well-placed retail. In the first six months of this year, 16 of the 22 apartment buildings that sold went for an average of $114,600 per door, the lowest price of any major Canadian city.
In retail, look for opportunities in the southwest suburbs, where the retail vacancy rate is 1.7 per cent and no new space was added this year. Southwest lease rates are in a landlord-friendly range of $20 to $55 per square foot.
No. 5: Lethbridge
Confidence in Lethbridge's commercial real estate market is strong, with the city recently ranked by Avison Young as Alberta's strongest municipal economy for 2017. The Canadian Federation of Independent Business' latest Top Entrepreneurial Cities Report placed Lethbridge 18th out of 121 centers.
More than 92,000 residents call Lethbridge home and the city has seen population growth of 10.8 per cent since 2011. Expansion projects are drawing new residents to the area. The City of Lethbridge has invested in the development of the Crossings, 60 acres of mixed-use land in West Lethbridge hosting large retail footprints. The city recently spent more than $41 million on construction of Phase 1 of the Crossings Leisure Complex. Phase 2 is set to be completed by 2019 and has a budget of nearly $110 million. Building permits across the city totaled nearly $1 billion over the last five years, and industrial and agricultural land in North Lethbridge is seeing a sizable piece of the action.
Investment play: While Lethbridge's office and retail markets are currently the city's best-performing sectors, industrial real estate may take the lead in 2018. Industrial vacancy rates rose slightly to 6.2 per cent in 2016, but the rate declined to 4.4 per cent this year and should remain relatively tight in 2018. North Lethbridge appears the best bet for both commercial and industrial investments.