KELOWNA
Why Choose Kelowna!
Kelowna is in the heart of British Columbia's beautiful Okanagan Valley, regarded as one of the most scenic regions in Canada. People are drawn to the great four-season weather, stunning landscapes and boundless opportunities for outdoor recreation – water sports, cycling, golfing, skiing, hiking and so much more. Rich in culture, the Okanagan hosts brilliant wine festivals, extraordinary art, music and theatre events, and offers all the dining and entertainment you would expect from one of the most vibrant regions in the B.C. Interior.
Geographical Crossroads and Urban Planning
Geographically speaking, most expats moving to Kelowna have no reason to complain. It is ideally situated for lovers of any outdoor activity you can think of. Surrounded by miraculous mountains and with the beautiful Okanagan Lake separating West Kelowna and Kelowna, Kelowna has the perfect natural commodities for winter and summer activities.
To see some of the most popular activities that Kelowna has to offer, take a look at Things to Do in Kelowna.
Beyond Kelowna's picturesque scenery, a large part of its livability also manifest from the physical beauty and public cleanliness of the city itself. To put it simply, Kelowna is exceptionally charming. Spawning gardens, spacious public squares, niche shopping, vineyards and orchards of all sort makes everyday life in Kelowna very pleasant. All orchards and vineyards thrive within minutes from downtown making life that much enjoyable.
Let's move forward to establish a bit more about Kelowna's modern context. Settle neatly in the center of the Okanagan Valley and close to the USA border, Kelowna finds itself not only in a positon of immense natural beauty, but also at the greater cultural crossroads, where Canada meets the USA. Relatively undiscovered, Kelowna has gained a spot on the top 10 busiest airports of Canada in 2015. Kelowna airport connects to major North America cities including Seattle, San Francisco, Toronto, Vancouver, Hawaii, etc. Kelowna's setting, thus, provides more than just a pristine natural backdrop; its location has played a deeply influential role in the city's hybrid cultural identity as well.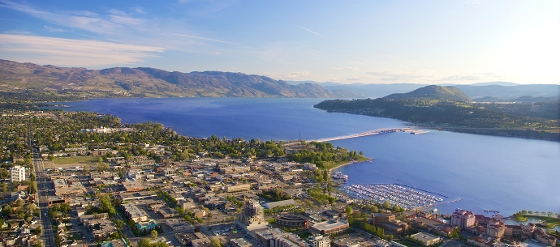 Economic Development
Kelowna has shown nothing but development growth over the years. The city of Kelowna understands the important of economic development and are committed to attracting and retaining businesses, but also making decisions that benefit the community.
Kelowna has invested and create 1000's of jobs by balancing investments in infrastructure for today and tomorrow. The City of Kelowna has developed a long-term infrastructure plan for improving water quality and improving infrastructure. The plan can be found at the The City of Kelowna.
Besides the cities investments, Kelowna has seen foreign investors taken a keen interest in real estate, mostly in commercial properties as the city offers high capitalization rates.
As real estate markets, such as in Vancouver and Toronto become financially inaccessible, foreign stakeholders, such as Asian investors have been relocating their money around the Okanagan for their better yields of capitalization. Some recent purchases from Asian investors include, the former Monaco multi-family site, which sold for $6.5 million, the 125-room Lake Okanagan Resort, which ended up selling for more than $10 million, and a commercial property on Bertram Street that went for $2.4 million.
Regional Facts
Kelowna is in the core of the Okanagan Valley and is part of the Regional District of Central Okanagan which includes the areas of West Kelowna, Lake Country, and Peachland. Kelowna Is the largest community in the Central Okanagan district with a current population of 127,380 representing a percentage change of 8.6% from 2011. This compares to the national average growth of 5.9%.
Kelowna has a land area is 211.85 square kilometers with a population density of 601.3 persons per square kilometers. This compares to the provincial land area of 922,509.29 square kilometers with a population density of 4.8 persons per square kilometer. Kelowna has currently 57,433 private dwellings and 53,903 of the private dwellings occupied by usual residents.
For a more detail population and demographic census check Statistics Canada census report for 2016.
Homes
There are various types of properties you can buy or rent in Kelowna. All types of Real estate in Kelowna has been, and continues to be, a great investment. If you bought your primary residence years ago, and have enjoyed tax-free growth since, you've probably made a great return on your home. Real estate is a relatively safe investment; it's easily understood, and it's well proven that the long-term investment of buying is preferable to renting. Below is a list of several housing types, but not limited to Kelowna.
Condominiums
Detached House
Townhouse
Semi-detached house
Duplex/Triplex
Conclusion
Whether you want to move or visit Kelowna, remember that Kelowna offers great wine touring, restaurants, and endless outdoor recreation opportunities. The city is home to outstanding golf courses, scenic trails, and plenty of beach and water-based fun.
Cecile Guilbault
cecile@cecileguilbault.com